NEOPHONE
The first vertical-cut record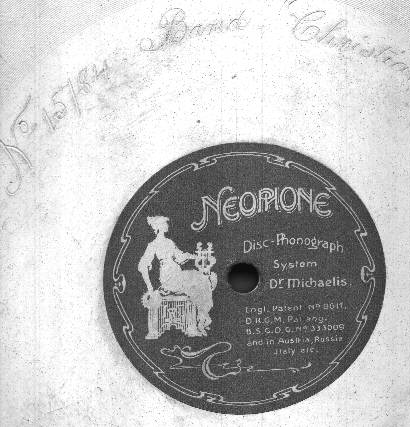 Neophone was a short-lived British company which was apparently the first to issue vertical-cut discs. The following is a quote from Joe Batten's book (Rockliff, London, 1956). Joe Batten was an accompanist at concerts and music-halls who started to play for the recording companies in 1900 and eventually became Recording Manager for Columbia in Britain.
---
"Some three months after this [1904], the Neophone Recording Company offered me a permanent engagement and a regular weekly salary, which I accepted. Such unhoped-for security seemed wonderful, for although my engagements were plentiful there was always the anxiety that the demand for my services might cease as suddenly as it had begun. Now, every morning, I arrived at the studio in a silk hat and frock coat, emblems of my advancement.

"The inventor of the Neophone "indestructible" record was a German, Dr. Michaelis, and from the Neophone Company emerged the Crystalate records, ultimately to merge by devious progressions into the present-day Decca Company. Every now and then, Neophone would come to a stop for want of capital, but soon Michaelis would find another backer and off we went again.

"Neophone records were made of papier mache, and were advertised as "warranted indestructible". To prove this, Dr. Michaelis would assemble a group of potential buyers at thc top of a four-storeyed building, then standing at the corner of Worship Street and the City Road, and demonstrate by throwing a record out of the open window to the street below. A boy then dashed down the stairs and retrieved the record. This was then played, and as it emitted its normal noises this was clear evidence that it was none the worse for its rough treatment. But although customers did not buy records to drop on the heads of unsuspecting pedestrians, yet all might have gone well had not the records, when displayed in shop windows, curled up in the sun and assumed pathetic surrealistic shapes. The records did not sell, the upshot of this was that many hundreds of recordings of military bands, banjo soloists, concertina players, and singers, both comic and serious, were made, but never heard."
---
The playing surface was of white "enamel" backed with thick pasteboard with a paper reverse side carrying a larger version of the label. The labels (white on wedgwood blue) were presumably all identical as they carry no title or artist details. These are engraved in script inside the last recorded groove (partly visible in the picture). They start from the outside, and turn at a similar speed to normal records of the period. The groove was wide and shallow like a Pathe.
Neophone issued discs in a large variety of formats and types. They varied in size from 9 inches to a 20 inch disc which played for 10 minutes per side. They were also issued in a more conventional black material called Neolite. A 10 inch fine-grooved disc was made which played for 12 minutes per side. They opened offices and apparently recorded in many cities worldwide. It is likely that Neophone's apparent success influenced Pathe in bringing out its very similar disc format around 1906. Neophone was acquired by the General Phonograph Co. Ltd in 1907 and wound up its affairs in 1908.
---
Extra information from Encyclopedia of Recorded Sound in the United States, ed Marco, 1993. A history and listing for Neophone was published by Frank Andrews, the author of the encyclopedia article, in 1978.

Adrian Hindle-Briscall